Doc Adam to take action vs Dr. Farrah's alleged health misinformation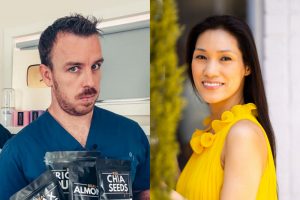 After years of hiatus in content creation, Australian doctor Adam Smith announced that he would be using the evidence he has against Filipino doctor Farrah Agustin-Bunch to further educate the public about her misleading health-related claims.
The Filipino-speaking physician gave this update last Friday, more than a year after announcing that he would cease vlogging starting November 2021 due to the lawsuits filed against him by  Dr. Farrah.
Doc Adam said that he has already spent over $500,000 Australian dollars on Dr. Farrah's lawsuit, which is equivalent to P18,841,439.51 in currency exchange rates as of this writing.
He added that it has so far prevented him from "getting married," caused him "anxiety and depression" and has caused him "missing many days of work."
The physician previously said he has been receiving legal threats and letters threatening him of cyber libel following his fact-based videos against products being endorsed by celebrities, politicians and companies.
"Dahil sa lahat nang naranasan ko… KC and I had some chat and we decided we are going to stop YouYube," Doc Adam said before, referring to his Filipino wife.
READ: 'Hanggang dito na lang': Doc Adam to cease vlogging after 4 years
By February 3, Doc Adam said he has decided to continue his goal of educating Filipinos by debunking misleading medical and health-related claims.
"I stand by my Principles. I stand by Ethics. I stand by my training and I stand by Filipinos. So here's what's going to happen," Doc Adam wrote on Facebook.
He said that he has "spent months recording and watching Dr. Farrah's old videos, documenting her [advice], talking to relatives of her previous patients, communicating with the FDA [Food and Drug Administration] and other government bodies, and talking to doctors in the Philippines."
The physician said of obtaining "an extensive database of documents and other evidence against Dr. Farrah," adding that it will be used "against her at trial" and for his future videos "to educate the public."
"There is a lot we can learn from the previous misleading actions of Dr. Farrah," Doc Adam added.
He also invited those who have been affected by Dr. Farrah's health advice and are willing to tell their story to drop him an e-mail, saying he intends "to show the court and the public what she did."
"If you're a doctor or journalist and have had experience with Dr. Farrah's previous patients, please contact me on the same e-mail. This is a story that needs telling and I'm excited to tell it," the doctor-vlogger said.
Doc Adam can be e-mailed at [email protected].
He said the court case would be in public, with a pre-trial set in March. A full trial will then follow.
"I will report on the trial to make sure everyone in the Philippines knows what's going on. I can't wait to share everything that I found with you guys. See you all soon," the physician said.
Doc Adam also stressed that he created his past videos with the purpose "to educate Filipinos."
"I'm a doctor. I know what's right, I know what's wrong. I know that even if Dr. Farrah is also a doctor, there are no medical guidelines or sound peer-reviewed scientific evidence supporting many of her previous actions. Her past [pieces of advice] were extremely misleading and potentially dangerous," he said.
Adam vs Farrah 
Doc Adam is known for creating videos that aim to correct and fight health and medical-related misinformation since 2017. He also debunked claims about some products.
Apart from this, the doctor-vlogger also shares medical tips and advice based on his over 10 years of experience as a medical practitioner.
He used to visit the Philippines through medical missions and had since learned to speak Filipino.
The physician has been embroiled in legal battles against Dr. Farrah after debunking some of her claims, which include her ideas about cancer treatment.
ALSO READ: 'I'm back': After YouTube hiatus, Australian Doc Adam returns with a challenge to Doc Farrah
Dr. Farrah, who has over three million followers on Facebook, is a doctor who promotes natural medicine through social media.
Her establishment in Tarlac was closed in 2018 after it was found to be selling unregistered health products. Two years later, some of her dietary supplements were tagged as "unregistered" by the FDA Philippines.
Dr. Farrah was also mentioned on physician Stephen Barrett's website called Quackwatch, which warns people about health frauds, myths and misconceptions.
"Her ideas about the causes and treatment of cancer do not conform to basic knowledge of cancer physiology shared [by] the scientific community. Instead of recognizing that many factors (including diet and heredity) contribute to cancer, she claims that its underlying causes are 'toxins' and 'weakness of the immune system,'" Dr. Stephen wrote in 2018.
"To judge whether a treatment is effective, it is necessary to compare similar patients who receive the treatment under consideration with similar patients. I was unable to find any such information on Dr. Farrah's Web sites or in any report published in a recognized scientific journal," he added.
Dr. Farrah previously acknowledged the negative criticisms against her by saying that such it has "no purpose other than to express ill will, affect the interests of others, and tarnish the image of one's professional colleagues."
"I'm not claiming to be right and anyone else be wrong. I simply believe that as a result of consistent long-term medical investigation, I have continued to learn and grow as a Doctor. As such, ideas that I had once firmly held were shaken free with the overabundance of contrary evidence," she added.
"Why shouldn't we seek to understand a different way of treating illnesses? Why should we stop looking for answers? Why should we stop studying and learning just because our 'peers' have? Is science settled?" Dr. Farrah continued.