Flowers And Their Meanings, AKA The Best Blooms For A Valentine's Bouquet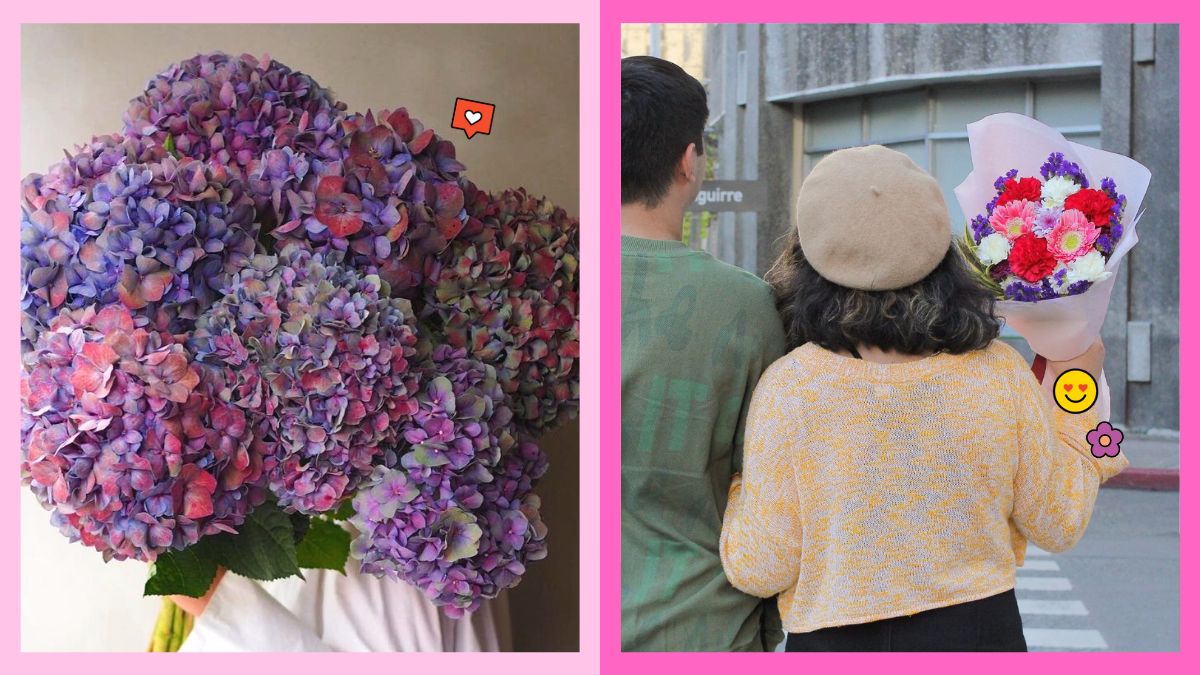 With Valentine's Day coming up, we're sure you're anticipating receiving a bouquet of flowers or maybe you're channeling your inner Miley and buying yourself flowers as a treat.
If flowers could talk, have you ever stopped to think about what they would say? Have you ever wondered what message a bouquet of flowers could send? If you're curious how those flowers perfectly suit, you, the receiver. Here's a little primer on what those blossoms represent, so you know which ones to include or not in your Valentine's day bouquet.
What flowers have negative meanings?
 You definitely don't want to send the wrong message with your bouquet, so you might want to steer clear of these blooms:
Yellow Roses
They symbolize friendship, so it's not really ideal—unless you really want to make it clear that your relationship with that person is purely platonic—ouch! Maybe don't give it on the most romantic day of the year to make the message clearer, too. Yellow roses also signified jealousy in ancient times, aka, another reason that might stir the pot.
Carnations
While they are quite pretty, they also mean "lack of love and affection." Red ones imply pain, striped ones mean rejection, and yellow ones suggest disappointment. Some sources say they symbolize devotion and good luck, but since they may be seen in a negative light, you might want to be on the safe side and just choose different flowers.
Orange Lilies
While this delicate flower generally brightens up someone's day, an orange one can represent hatred and contempt. Definitely not something you want your S.O. to misunderstand!
Funeral Flowers
For obvious reasons, steer clear of arrangements similar to the usual ones you see at funerals. Leave out white chrysanthemums, orchids, ivory-colored lilies, sampaguita, and kalachuchi in your bouquets, too.
What flowers are the most romantic?
If you're looking "foolproof" flowers that will definitely send a romantic message across, here are some blooms worth considering:
Red or Pink Roses
Nothing spells romance more than this classic Valentine's Day gift. Red ones mean __ while pink petals represent adoration. Pro tip: Look for Ecuadorian roses, which are famous for their size. The large blooms will definitely catch the eye of the receiver.
Pink Tulips
A bouquet of tulips is the perfect gift for someone very elegant or graceful. These flowers are associated with care and love, and the pink ones symbolize happiness.
Peonies
More delicate than a rose and more rustic than tulips, these blooms are visuals for happy romances and prosperous marriages. It also represents beauty, so it's the perfect way to express your admiration for someone.
Sunflowers
These cheerful blooms symbolize loyalty—a trait anyone loves in a partner. Use these to promise your S.O. that your faith won't waver and your love is unconditional.
Gypsophila or Baby's Breath
Traditionally chosen as wedding flowers, these tiny blooms express eternal love. It's the ultimate bouquet if you're in it for the long haul.
Purple Hydrangeas
With what looks like hundreds or thousands of petals, these flowers represent a deep desire to get to know someone better. So, it's an excellent choice if you've just started courting or dating someone. These flowers also symbolize grace and beauty—a wonderful homage for yourself if you're spending Valentine's solo this year.
What do flowers or colors say about you or your partner?
 Another way to come up with the elements of your bouquet is by taking into consideration what the receiver will like. For example, even if dark blooms generally have negative connotations, if your partner bleeds black, then they will most likely appreciate a black bouquet. The color implies sophistication and sexiness, after all! Another example is lavender or any purple flower, which symbolizes royalty. It's a fitting tribute for a queen in your life, right?
Of course, you can break the norms and choose a flower with a "negative meaning" but make your message clear through a dedication card. Let's say you give someone a bouquet of white lilies or roses. You could also attach a note that your gift is basically a vow that your love is pure and you're in their life with the best intentions.
The language of flowers is definitely a beautiful and romantic way to express your feelings this Valentine's Day and any day of the year. We hope this guides you better in sending the right message with your bouquet.