Headed to Naples? Here's your foodie's guide to local eats
Naples
Naples, Italy, is a beautiful city famous for housing Mount Vesuvius. It is a picturesque volcano where guests can hike and explore the area. Aside from this, the city also features the iconic Castel Nuovo. It is a medieval castle known for its art gallery and engaging displays.
In Naples, you will find some delectable dishes that you just cannot miss! There are some mouth-watering dishes and tasty dishes like Pizza Fritta, Struffoli, and Neapolitan Pizza and many more. Continue reading to know more.
1. Pizza Fritta
The concept of pizza fritta is simple, seal the toppings between two layers of pizza dough and deep-fry it until crispy. Pizza Fritta is a Neapolitan street food that enjoys a cult-like reverence amongst the locals. Fried pizza, a less-expensive alternative nicknamed "pizza of the people," was filled with less expensive ingredients like pork crackling and ricotta.
The most popular places to try out Pizza Fritta are La Masardona, 1947 Pizza Fritta and Antica Pizza Fritta da Zia Esterina Sorbillo.
2. Struffoli
A traditional Neapolitan Christmas dessert, Struffoli, also know as Honey Balls, are made with a sweet dough rolled into small, marble-sized balls that are deep fried and then soaked in honey. The Honey Balls are then piled on a plate, sometimes formed into a wreath or Christmas tree shape. These candied tidbits are have a crunchy exterior and a soft, sweet center.
The most popular places to try out Struffoli are Struffoli and Pasticceria Leopoldo.
3. Neapolitan Pizza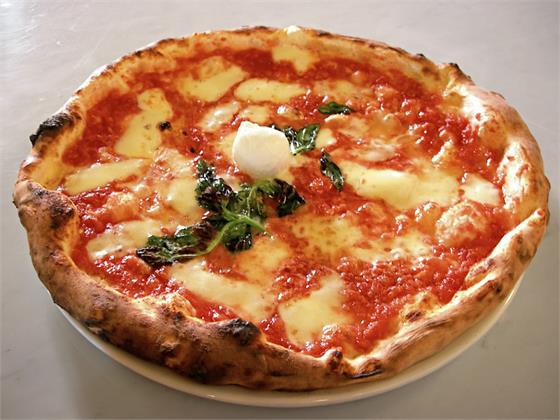 Neapolitan pizza, like many Italian dishes, is simple, yet masterfully balanced. A basic dough is shaped into a flat bread, and it is topped with tomato sauce and mozzarella. It is then cooked in a wood-burning oven until crisp, and topped with fresh basil. The colors of the toppings were chosen by its inventor, Raffaele Esposito, to represent the colors of the Italian flag.
The most popular places to try out Neapolitan Pizza are Gino e Toto Sorbillo and Pizzeria Di Matteo.
4. Pizza Di Scarola
Pizza di scarola is not your typical pizza by any means. It is more like a savory pie that is filled with escarole, garlic, black olives, capers, anchovies, pine nuts and raisins. The delicious toppings are nestled between layers of dough and baked to perfection. This pie is a tradition at Christmas Eve but eaten year round.
The most popular places to try out Pizza Di Scarola are Pizza di scarola (Escarole Pie), Memorie di Angelina and Mazz.
5. Ziti Al Forno
Ziti al Forno, or simply "baked ziti" is a pasta dish prepared in two stages. First, tubular ziti noodles are boiled as usual. The drained noodles are mixed with sauce, cheese (at a minimum) and baked in the oven. Ground meat, mushrooms, peppers, onions, and other ingredients are often added depending on the chef's preference. The casserole is served with crunchy corners and browned cheese on top.
The most popular places to try out Ziti Al Forno are NEAPOLITAN BAKED ZITI PASTA AL GRATIN, La Tavola and Abella.
6. Spaghetti Alla Puttanesca
Spaghetti alla puttanesca is an Italian pasta dish imagined in Naples during the twentieth century. Its fixings regularly incorporate tomatoes, olive oil, olives, escapades, and garlic, notwithstanding pasta. The sauce alone is called sugo alla puttanesca in Italian. Plans may vary as per inclinations; for example, the Neapolitan variant is set up without anchovies, dissimilar to the form well known in Lazio. Flavors are now and again included. Much of the time, be that as it may, the sugo is somewhat pungent (from the tricks, olives, and anchovies) and very fragrant (from the garlic). Generally, the sauce is presented with spaghetti, despite the fact that it is likewise matched with penne, bucatini, linguine, and vermicelli.
The most popular places to try out Spaghetti Alla Puttanesca are Ristorante da Ettore and Hotel Piazza Bellini & Apartments.
7. Fried Antipasti
Just about everyone is familiar with the Italian antipasto platter, Ingredients typically include cured meat, cheese, anchovies, mushrooms, pepperoncini, olives, artichoke hearts and vegetables in oil and vinegar. It is served on a large platter and diners help themselves. With "Fried Antipasti", some of the ingredients are fried, making a crispy, crunchy addition to the classic first course.
The most popular places to try out Fried Antipasti are Vomero Fried Food, Trattoria Don Vincenzo Napoli and Osteria Da Carmela.
8. Coffee
Coffee is obscurely shaded, severe, marginally acidic and has an animating impact in people, basically because of its caffeine content. It is one of the most mainstream drinks in the world, and can be arranged and introduced in an assortment of ways (e.g., espresso, French press, caffè latte, or as of now prepared canned coffee). It is generally served hot, despite the fact that chilled or frosted espresso is normal. Sugar, sugar substitutes, milk or cream are frequently used to diminish the severe taste.
The most popular places to try out Coffee are Cafè do Brasil, Bar Mexico and Coffee Central.
9. Frittata Di Pasta
Frittata di pasta, sometimes called Spaghetti Pie, is similar to an omelette but with pasta as one of the ingredients. It is generally made with spaghetti or maccheroni (tube) pasta, eggs, mozzarella cheese and sometimes bacon. The ingredients are mixed together and put in a pan to cook. The finished dish is put under the broiler to brown the top, rather than being flipped.
The most popular places to try out Frittata Di Pasta is Pizzeria Di Matteo.
10. Fried Cod
Pan fried cod uses a minimal amount of oil and flour, and brings out the flavor of the fish more than deep frying. In either case, the fish cooks to a flaky white fillet with a mild taste. It pairs well with many side dishes, but common ones include tomatoes and peppers, eggplant, and potatoes. Adding onions, garlic, or white wine to the pan oil will further enhance the flavor profile.
The most popular places to try out Fried Cod are Antichi Sapori Partenopei, DE' FIGLIOLE and La Tattoria.
11. Impepata Di Cozze
Impepata di Cozze Naples food is inseparable from fish, and a major bowl of Impepata di Cozze is exactly what local people request for a scrumptious supper. New mussels are cooked with pepper, tomatoes and white wine, and the juices from the mussels draw out the mark taste of the dish. Impepata di cozze, peppered mussels, is such a dish that doesn't overpower cozze that have been gotten just hours prior, and is snappy and easy to get ready. It is famous in Campania, particularly in Naples. Cozze are matched with a liberally peppered stock spiced with lemon, garlic, olive oil and parsley
The most popular places to try out Impepata Di Cozze is L'Ostricaio.
12. Gattò Di Patate
Gatto di Patate, a customary potato cake formula from Naples, Italy, is the ideal generous side dish to serve close by barbecued steak or chicken. The bread crumb topping makes this messy potato dish totally irresistible! Potato gateau, better referred to in Naples as gattò di patate (or even gatò), is an old delicacy. We should discover how it became and how to set it up. Potato gateau, or rather Neapolitan potato gattò , can be characterized as an authentic exquisite tart with a softened focus and a crunchy outside au gratin.
The most popular places to try out Gattò Di Patate are Archivio Storico, Gatto di Patate (Italian Potato Cake) and Good Food.
13. Linguine Alla Fruitti De Mare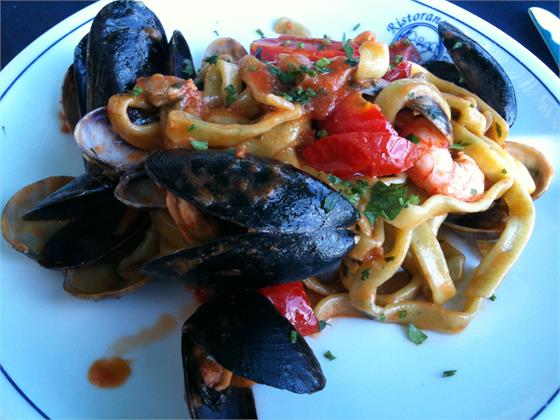 This seafood dish that has its beginnings in the Naples region of Italy has been a classic favorite for residents of Southern Italy for years. The pasta dish was so loved that almost every single restaurant in the region had their own version of this dish on their menu. Traditionally served over linguine noodles with an array of delicious seafood, including fresh clams.
The most popular places to try out Linguine Alla Fruitti De Mare are Antica Capri and O Marenaro.
14. Calzones
Calzones are like a pizza folded over with all of it's toppings in the middle. They are perfect to hold and eat on the go and are often filled with cheeses and meats. They are a specialty in Apulia, a region of Italy, and are known there as panzerotti. They became very popular in the United States after being premiered on an episode of Seinfeld in 1996.
The most popular places to try out Calzones are Starita and Leoni's Pizzeria.
15. Mozzarella Di Bufala
Mozzarella di bufala, or buffalo mozzarella, is made from the milk of the Italian Mediterranean buffalo. It is traditionally made in the provinces of Caserta and Salrno in Campania in southern Italy. This rich and creamy cheese is known for its versatility and elastic texture. It is cut by hand from the curd and served in individual pieces.
The most popular places to try out Mozzarella Di Bufala are Il Ritrovo dei Sapori, Caseificio Marigliano and Caseificio Marigliano.
16. Pasta Alla Genovese
Genovese sauce is a rich, red onion flavored pasta sauce that is a native favorite in Naples, Italy, and a little piece of Italian culture that can be enjoyed in restaurants throughout the United States, as well. Common ingredients in the sauce are white wine, beef cubes, pancetta, garlic, and parmesan cheese.
The most popular places to try out Pasta Alla Genovese are ZITI PASTA WITH LA GENOVESE RAGU; RECIPE FROM NAPLES and Trattoria Malinconico.
17. Parmigiana Di Melanzane
Parmigiana di melanzane normally contains fried or grilled eggplant smothered in basil flavored tomato sauce, then topped with cheeses. Mozzarella, pecorino Siciliano, scamozza and caciocavallo Silano ar often used in this creation. Many believe that this dish is related to Reggiano cheese or the city Parma but this is not the case. This delectable dish's name actually derives from the word for Persian, parmisciana.
The most popular places to try out Parmigiana Di Melanzane are Parmigiana, Mimì alla Ferrovia and La Cantina di via Sapienza.
18. Pastries
Pastries can be very sweet or sour and tangy. Pastries mean many different types of baked products made from things such as flour, sugar, milk, butter, shortening, baking powder and eggs. Small tarts and pies are called pastries and are popular in the United States.
The most popular places to try out Pastries are Antichi Sapori Partenopei Restaurant, Sfogliate & Sfogliatelle and Scaturchio.
19. Pasta E Fagioli
Pasta and beans, also known as pasta e fagioli in Italian and pasta fasul in Italian-American communities, is traditional soup from Naples which incorporates different types of pasta with beans that are soaked for eight hours before they are used. Tagliatelle, maccheroncini and spaghetti are pastas which normally enjoyed seperately in Italian cuisine but are used together in this hybrid dish to create a unique taste.
The most popular places to try out Pasta E Fagioli are Pasta e Fagioli, Eduardo and … Pasta and beans, Totò and Trattoria e Pizzeria Antica Capri.
20. Polpette
Polpettes are generally eaten as a main course or in soup in Italy. They are usually made with beef or pork (sometimes both), but sometimes poultry or sausage can also be used. The meat is combined with eggs, bread crumbs, olive oil, Romano cheese, garlic, salt, black pepper and parsley. The ingredients are rolled into balls and fried in oil. They are served in tomato sauce.
The most popular places to try out Polpette is Tandem Ragù.
Learn more about the best travel deals here!